DIGITAL ADVERTISING PROTOCOL, OPEN RTB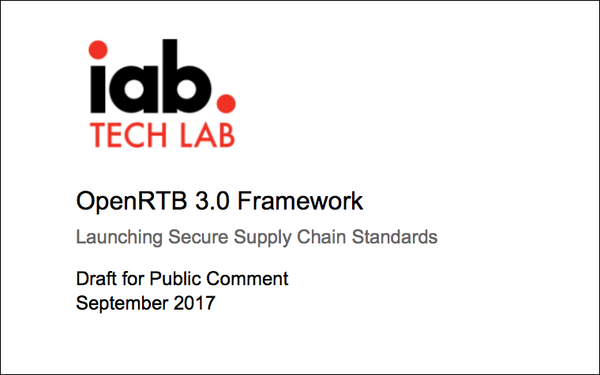 For 2017, Digital advertising industry have developed a lot by programmatic buying system.
In complex and diverse ad supply chain, you can not only make more profit opportunities, but also get more danger for ad frauds easily. And then, It sometimes has made Digital advertising industry get lost their reliability from advertiser, publishers and users.
That's why, there are 3 key words have been globally issued for this year 'Viewability', 'Transparency' and 'Ad blocking' on digital advertising revenue and UX.
To solve those kind of issues, among Ad-Tech companies, there have been made some solutions like Ads.txt. And the IAB(Interactive Advertising Bureau) announced that they are going to launch a Open RTB 3.0 in this september in LA. They briefly introduced it as a framework version and they said "it will heighten trust in the security of the automated advertising supply chain by giving buyers more transparency during bid process. It also integrate recent technology advancements like Ads.txt to improve automated buying and selling for all stakeholders"
First of all, what is the Open RTB?
The Open RTB is an interface which is for Real Time Bidding between advertiser and publisher.
As time goes by, the more diverse players(AdNetwork, AdExchange) joined the market, the more numerous ad exchanges happened. At this time, all of players needed to adjust every single interface for individual ad exchanges.
To meet enormous ad exchanges, however, it was very inconvenient to make different interface per each ad exchanges. That's why Big players from each buy(DataXu, Fiksu and [X+1]) and sell(Nexage, Pubmatic and Jumptap) side decided to make a standardized interface protocol called Open RTB in February 2011.
After a positive response from the industry, IAB(Interactive Advertising Bureau) adopted it as a standard interface in January 2012. And it has been developed constantly.
IAB Open RTB features for each versions
| | |
| --- | --- |
| Open RTB 2.0(2012. 01) | OpenRTB 2.0 provided unified support for display, mobile, and video capabilities. This was a significant step forward for programmatic as allows for the harmonization of mobile and desktop advertising.– VAST ad unit support– Improved geographical data definition– Increased cross-channel support for mobile and desktop through a common API language.– Improved 3rd party data segment support for audience targeting– Enhanced attribution support; inclusion of device IDs in mobile & mobile app parameters |
| Open RTB 2.1(2012. 10) | OpenRTB 2.1 provided for improved VAST video, tablet and location targeting support.– IAB Tier-2 category support– Recognition of tablet inventory– VAST video across RTB; the video object must represent an impression as either banner, video or both– Location source support; differentiation of GPS derived and zip code value targeting |
| Open RTB 2.2(2014. 04) | OpenRTB 2.2 provided for improved PMP and non-intentional traffic support. With bot traffic becoming an increasing concern to both the buy and sell sides, OpenRTB 2.2 allows for all parties to be able to provide real-time feedback on ads to determine and block non-human traffic.– Support to the allow for the differentiation of secure and nonsecure inventory.– Exhaustive Deal ID support for Private Marketplaces– Improved backing for new types of mobile and video inventory– Ability for buyers to alert sellers in real time about suspected bot traffic– COPPA regulation support |
| Open RTB 2.3(2015. 01) | The OpenRTB 2.3 specification provides support for native ads. This is one of the most significant updates to OpenRTB as it allows for native ads to be targeted, optimized, and transacted on programmatically, reducing workload on publishers and advertisers alike.– Native ad placements must be included directly into the impression object in order to be passed through the bidstream.– Allows for the inclusion of metadata (title, urls, data, img files) in the native request. The buy side now has the ability to describe the unit that's being bid on and the supply side is able to define which fields are available and required in order to assemble the native ad.– Updates to the style of the document including improved diagrams and revamped table format to support the continued commitment to OpenRTB. |
| Open RTB 2.4(2016. 03) | OpenRTB 2.4 introduces a brand new advertising medium to the protocol: digital audio. It includes improvements to private marketplace transactions, ability to declare skippable video ads, and additional fields in the bid-response allowing for more granular reporting capabilities.– Introduction of encryptions by supporting both HTTP and HTTPS– New audio object created– Increased location support allowing buyers to know which IP source was used to derive a given geo-location and when the latitude/longitude was last fetched using the device location service– Video skippability support for in-stream advertisements |
| Open RTB 2.5(2017. 01) | OpenRTB 2.5 includes updates that integrate current trends and allows for improvements in programmatic technology.– IAB New Ad Portfolio Support – integrating flexible aspect-ratio based ads into the bid object– Video Placement Type Support – adding visibility into what type of placement a VAST (video ad serving template) tag is running in accordance to the IAB digital video glossary– Header Bidding Support – allowing for a signal when a bid request is originated from an upstream decisioning implementation like header bidding– Historic Metrics Support – whereby exchanges can pass historic metrics such as viewability or click through rate |
[Source : IAB _ HTTPS://WWW.IAB.COM/GUIDELINES/REAL-TIME-BIDDING-RTB-PROJECT/]
Especially, the Open RTB 3.0 which has been released as a framework in this september has updated focusing on meeting the market's demand for security, transparency, authentication and trust in programmatic advertising.
Three major changes are being proposed :
A new process of cryptographically signed bid requests to view the inventory path, enabling the demand side to validate many of the fields in the bid request
A more flexible object model in the specification with the new AdCOM (Advertising Common Object Model)
New ways to transmit display demand to enable safer creative controls for publishers with Ad Management API Standard
[URL : HTTP://WWW.THEDRUM.COM/NEWS/2017/09/12/IAB-RELEASES-OPENRTB-30-PUBLIC-COMMENT ]
The Open RTB has been essential protocol in digital advertising industry. Because, when Open RTB was updated, they always reflected the changing trend of ad-tech. It means that it is possible to cooperate with global digital marketing companies stably through the Open RTB.
For now, ADOP supports Open RTB 2.3 ver. And then we are planning for providing our solution in accordance with Open RTB 3.0 ver.
By providing a standardized interface for digital advertising, Open RTB has led a transparency of ad exchanges and expansion of usability based on stability.
In conclusion, if you have a plan for entering the global market, the Open RTB is highly recommended to implement your digital advertising solutions in the global markets easily.