DO YOU KNOW THE FACEBOOK INSTANT ARTICLE?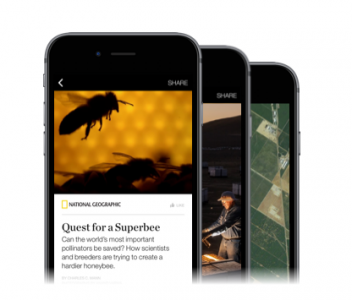 Facebook Instant Article is a service that enables end-users to quickly access the content from each media on Facebook. This service uses an Inlink method that provides instant access to news articles from each media company on Facebook servers, so you can reduce the amount of time readers can access the articles.
News articles in Facebook with lighting icon on top of them are articles with instant articles. So The data in the news with instant articles is 10 times faster than the typical link method of loading news data.
Instant Article began offering a limited functionality to only 9 publishers in the United States in 2015. And for now, It is provided by some big media in Korea(SBS, Insight, Huffington Post, etc).
Instant Article feature
Is there only 'loading fast' feature of an instant article to improve the user experience with content?
Other features of the instant articles include :
First of all, The best thing about an instant article is undoubtedly its loading time. It means that it's providing new experience for potential customers using Facebook with faster load times.
70% percent of advertising revenue from Facebook is provided to Publishers. And then, Traffic generated by an Instant Article is provided to Publishers.
Facebook is a social networking site that already has plenty of PV. Major Publishers are also known to have a PV of 10 to 30 percent of the total. It means that you could gain a range of potential customers with Instant Article.
According to the length of the content articles, Ads would be added as they grow longer.
In Instant Article, you could measure the PV with various analysis tools such as Google Analytics and Adobe Analytics.
So, Who is an Instant article suitable for?
Facebook Instant Article can help Publishers improve their brand image in the sense that it provides easy access to news for end-users. We need a strategic approach to the traffic and profit of the moment but considering the features of Facebook, which attracts more than 10 million users each day, the convenience and readability of Instant Article can have a positive effect on the brand image of the publisher.
But, When I was looking at the features of Facebook Instant Article, I felt that publisher need to approach it strategically according to their business model.
For example, If the paid subscription is your revenue model, like the New York Times(NYT), publisher need to approach it carefully. Because These kinds of publishers earn more by having a lot of end-users come to their websites, Applying the Facebook Instant Article could get their own pages traffic down.
In response to this, Facebook recently announced that they are planning for introducing a new news-paid subscription model called Faywall. According to news, They say it will adopt a similar method to the paid subscription model used in the New York Times. When this service is applied to Instant Article, it could be able to quench the thirst for profitability of pay-based publishers.
On the other hand, according to the length of contents, the number of advertising inventory can be limited, but as a revenue source for display ads, ads in Instant Article have a higher Fill-rate and CTR because of their distinct target setting. For example, according to the results of an Instant Article from the French daily newspaper The Riberacions, The ad revenue in the Instant Article shows that the eCPM unit price was approximately $1.8 and maintained at a high Fill-rate. Also, Even if the number of visitors to mobile websites decreased, the opposite turned out to be filled by Instant Article, making the overall traffic was not getting down.
What about ADOP?
ADOP provides services for publishers to access Instant Article more easily and get new revenue sources via Instant Article at the same time.
Content producers(general publishers) who want to extend their content to Facebook users and increase their profits.
Content producers(Facebook page owner) who can not create a new revenue source.
In conclusion, by comparing the strengths and weaknesses of Facebook Instant Article, I think we could create new opportunities to gain the general usability and profitability of the contents you're running at the same time.